Baz Luhrmann's ELVIS - The Fashion - Warner Bros. UK
66586
32
1175
21.06.2022
844492603
1300000
2363
06.06.2008
GB
The music, the looks, the FASHION. 🔥 The incredible cast & crew of #ElvisMovie discuss the designs & styles of the film. Available on 4K, Blu-ray, DVD and Digital Download Now. The film explores the life and music of Elvis Presley (Butler), seen through the prism of his complicated relationship with his enigmatic manager, Colonel Tom Parker (Hanks). The story delves into the complex dynamic between Presley and Parker spanning over 20 years, from Presley's rise to fame to his unprecedented stardom, against the backdrop of the evolving cultural landscape and loss of innocence in America. Central to that journey is one of the most significant and influential people in Elvis's life, Priscilla Presley (Olivia DeJonge). Starring alongside Hanks and Butler, award-winning theatre actress Helen Thomson ("Top of the Lake: China Girl," "Rake") plays Elvis's mother, Gladys, Richard Roxburgh ("Moulin Rouge!" "Breath," "Hacksaw Ridge") portrays Elvis's father, Vernon, and DeJonge ("The Visit," "Stray Dolls") plays Priscilla. Luke Bracey ("Hacksaw Ridge," "Point Break") plays Jerry Schilling, Natasha Bassett ("Hail, Caesar!") plays Dixie Locke, David Wenham ("The Lord of the Rings" Trilogy, "Lion," "300") plays Hank Snow, Kelvin Harrison Jr. ("The Trial of the Chicago 7," "The High Note") plays B.B. King, Xavier Samuel ("Adore," "Love & Friendship," "The Twilight Saga: Eclipse") plays Scotty Moore, and Kodi Smit-McPhee ("The Power of the Dog") plays Jimmie Rodgers Snow. Also in the cast, Dacre Montgomery ("Stranger Things," "The Broken Heart Gallery") plays TV director Steve Binder, alongside Australian actors Leon Ford ("Gallipoli," "The Pacific") as Tom Diskin, Kate Mulvany ("The Great Gatsby," "Hunters") as Marion Keisker, Gareth Davies ("Peter Rabbit," "Hunters") as Bones Howe, Charles Grounds ("Crazy Rich Asians," "Camp") as Billy Smith, Josh McConville ("Fantasy Island") as Sam Phillips, and Adam Dunn ("Home and Away") as Bill Black. To play additional iconic musical artists in the film, Luhrmann cast singer/songwriter Yola as Sister Rosetta Tharpe, model Alton Mason as Little Richard, Austin, Texas native Gary Clark Jr. as Arthur Crudup, and artist Shonka Dukureh as Willie Mae "Big Mama" Thornton. Oscar nominee Luhrmann ("The Great Gatsby," "Moulin Rouge!") directed from a screenplay by Baz Luhrmann & Sam Bromell and Baz Luhrmann & Craig Pearce and Jeremy Doner, story by Baz Luhrmann and Jeremy Doner. The film's producers are Luhrmann, Oscar winner Catherine Martin ("The Great Gatsby," "Moulin Rouge!"), Gail Berman, Patrick McCormick and Schuyler Weiss. Courtenay Valenti and Kevin McCormick executive produced. The director's behind-the-scenes creative team includes director of photography Mandy Walker ("Mulan," "Australia"), Oscar-winning production designer and costume designer Catherine Martin ("The Great Gatsby," "Moulin Rouge!"), production designer Karen Murphy ("A Star Is Born"), editors Matt Villa ("The Great Gatsby," "Australia") and Jonathan Redmond ("The Great Gatsby"), Oscar-nominated visual effects supervisor Thomas Wood ("Mad Max: Fury Road"), music supervisor Anton Monsted ("Australia," "Moulin Rouge!") and composer Elliott Wheeler ("The Get Down"). Principal photography on "Elvis" took place in Queensland, Australia with the support of the Queensland Government, Screen Queensland and the Australian Government's Producer Offset program. A Warner Bros. Pictures Presentation, A Bazmark Production, A Jackal Group Production, A Baz Luhrmann Film, "Elvis" will be distributed worldwide by Warner Bros. Pictures. Buy or rent the home premiere now.
Кадры из видео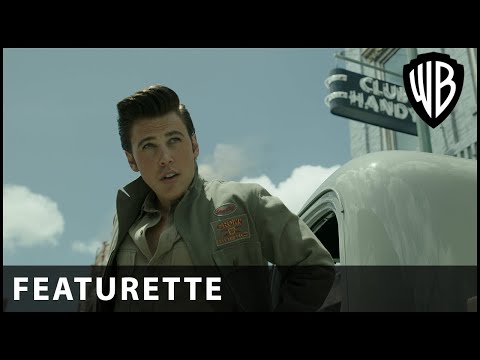 Комментарии пользователей:
Veronica Ezquiaga
2022-06-25 23:15:43
♥️👑🇺🇾
Mukund Menon
2022-06-25 16:22:56
Most awaited video.
Elvis the King 👑⚡
KAREN SACHS
2022-06-25 02:41:40
I finally got to see the movie of the century today it is absolutely fabulous Austin Butler is amazing
Wendy Otter
2022-06-24 12:11:31
GOLD STAR MOVIE!! This is best movie I ever see in a very very long time!! WOW!! This movie will answer ever question you have about Elvis!!! It will knock your sock off!! It even had me crying
Ritha Zinn
2022-06-24 09:26:43
Great to go back in time. I felt like a teenager again. Great movie. Seen it on 22 June. Yes the end, for me sad and yes did cry. Love you Elvis forever❤️❤️❤️
Annamaria Masotina
2022-06-23 07:58:18
Fantastico...😘😘😘
patricia shepard
2022-06-22 12:22:33
We finally get to see the truth about who, what, and why he was KING! I saw the film last night and cried!
SmallBodyBigEars
2022-06-22 12:07:29
Dude at be0VHoXNhfk&t=0m33s 0:33 , Austin looked just like Elvis, that is insane!
Esta película va a ser la mejor que se a echo hasta ahora ... Viva el Rey ELVIS PRESLEY .
Allen Hansford
2022-06-22 05:30:52
Awesome 👌 👏 👍 😍 💖 🆒️ 👌 👏 👍 😍 💖 🆒️ 👌 👏 👍 😍 💖 🆒️ 👌 👏 👍 😍 💖 🆒️ 👌 👏 👍 😍 💖 🆒️ 👌 👏 👍 😍 💖 🆒️ 👌 👏 👍 😍 💖 🆒️ 👌 👏 👍 😍 💖 🆒️ 👌 👏
Margaret Smith
2022-06-22 00:17:39
GOOD LUCK TO THE FILM LOVE 💘❤ 💕 💘 ❤ 💗 💖 💘❤ 💕 💘 ❤ 💗 ELVIS FOREVER AND YEAR'S THERE WILL NEVER BE ❤ ♥ 💜 ANOTHER BEAUTIFUL ELVIS MARGO
Joelyne 37
2022-06-21 18:54:21
Ok I've always thought that Austin looked great as Elvis, even though he doesn't look exactly like him, but the clip of him shown in this with the white turtle neck and the blue suit from the Little Less Conversation video LOOKS IDENTICAL TO ELVIS! That actually blew my mind cuz that's the most I've seen Austin look JUST like him!
Mr. Bear
2022-06-21 18:00:28
be0VHoXNhfk&t=0m37s 0:37 Little Richard great, I didn't see that coming
Matt Geiger
2022-06-21 17:46:44
Was I the only one who noticed the clip with Kurt Russell?
ElvisFan64
2022-06-21 16:41:21
Totally awesome
He for sure was a trend setter, his dress style always as unique as the man himself.
Claudio Vidal
2022-06-21 14:58:41
Deus
Traga paz ao meu coração, felicidade ao meu caminho. Fortalece meu espírito.

Pousa a Tua mão Santa sobre a minha ferida e cure qualquer dor, amplie minha consciência para que eu penetre até onde não tenho conseguido e possa ter mais paz.

Que nesse novo dia eu tenha a chance de recomeçar com forças renovadas, que a minha fé transborde e o otimismo seja meu parceiro durante todo o dia.

Guia-me Senhor, ilumina meus passos, abençoa minhas escolhas e livra-me de todo o mal.

Assim eu oro e agradeço em nome Santo de Jesus

Bolsonaro o melhor presidente do Brasil e do mundo inteiro.
michael leitch
2022-06-21 14:42:56
He no elvis thats sure and tom Parker played by tom hanks definitely a no no for me i rather watch the real elvis singing and dancing