Baz Luhrmann's ELVIS - The Music - Warner Bros. UK
80838
45
1508
23.06.2022
844139926
1290000
2362
06.06.2008
GB
Go behind the scenes and watch how Austin Butler brings the icon's timeless music to the big screen. Available on 4K, Blu-ray, DVD and Digital Download Now⚡ The film explores the life and music of Elvis Presley (Butler), seen through the prism of his complicated relationship with his enigmatic manager, Colonel Tom Parker (Hanks). The story delves into the complex dynamic between Presley and Parker spanning over 20 years, from Presley's rise to fame to his unprecedented stardom, against the backdrop of the evolving cultural landscape and loss of innocence in America. Central to that journey is one of the most significant and influential people in Elvis's life, Priscilla Presley (Olivia DeJonge). Starring alongside Hanks and Butler, award-winning theatre actress Helen Thomson ("Top of the Lake: China Girl," "Rake") plays Elvis's mother, Gladys, Richard Roxburgh ("Moulin Rouge!" "Breath," "Hacksaw Ridge") portrays Elvis's father, Vernon, and DeJonge ("The Visit," "Stray Dolls") plays Priscilla. Luke Bracey ("Hacksaw Ridge," "Point Break") plays Jerry Schilling, Natasha Bassett ("Hail, Caesar!") plays Dixie Locke, David Wenham ("The Lord of the Rings" Trilogy, "Lion," "300") plays Hank Snow, Kelvin Harrison Jr. ("The Trial of the Chicago 7," "The High Note") plays B.B. King, Xavier Samuel ("Adore," "Love & Friendship," "The Twilight Saga: Eclipse") plays Scotty Moore, and Kodi Smit-McPhee ("The Power of the Dog") plays Jimmie Rodgers Snow. Also in the cast, Dacre Montgomery ("Stranger Things," "The Broken Heart Gallery") plays TV director Steve Binder, alongside Australian actors Leon Ford ("Gallipoli," "The Pacific") as Tom Diskin, Kate Mulvany ("The Great Gatsby," "Hunters") as Marion Keisker, Gareth Davies ("Peter Rabbit," "Hunters") as Bones Howe, Charles Grounds ("Crazy Rich Asians," "Camp") as Billy Smith, Josh McConville ("Fantasy Island") as Sam Phillips, and Adam Dunn ("Home and Away") as Bill Black. To play additional iconic musical artists in the film, Luhrmann cast singer/songwriter Yola as Sister Rosetta Tharpe, model Alton Mason as Little Richard, Austin, Texas native Gary Clark Jr. as Arthur Crudup, and artist Shonka Dukureh as Willie Mae "Big Mama" Thornton. Oscar nominee Luhrmann ("The Great Gatsby," "Moulin Rouge!") directed from a screenplay by Baz Luhrmann & Sam Bromell and Baz Luhrmann & Craig Pearce and Jeremy Doner, story by Baz Luhrmann and Jeremy Doner. The film's producers are Luhrmann, Oscar winner Catherine Martin ("The Great Gatsby," "Moulin Rouge!"), Gail Berman, Patrick McCormick and Schuyler Weiss. Courtenay Valenti and Kevin McCormick executive produced. The director's behind-the-scenes creative team includes director of photography Mandy Walker ("Mulan," "Australia"), Oscar-winning production designer and costume designer Catherine Martin ("The Great Gatsby," "Moulin Rouge!"), production designer Karen Murphy ("A Star Is Born"), editors Matt Villa ("The Great Gatsby," "Australia") and Jonathan Redmond ("The Great Gatsby"), Oscar-nominated visual effects supervisor Thomas Wood ("Mad Max: Fury Road"), music supervisor Anton Monsted ("Australia," "Moulin Rouge!") and composer Elliott Wheeler ("The Get Down"). Principal photography on "Elvis" took place in Queensland, Australia with the support of the Queensland Government, Screen Queensland and the Australian Government's Producer Offset program. A Warner Bros. Pictures Presentation, A Bazmark Production, A Jackal Group Production, A Baz Luhrmann Film, "Elvis" will be distributed worldwide by Warner Bros. Pictures. Buy or rent the home premiere now.
Кадры из видео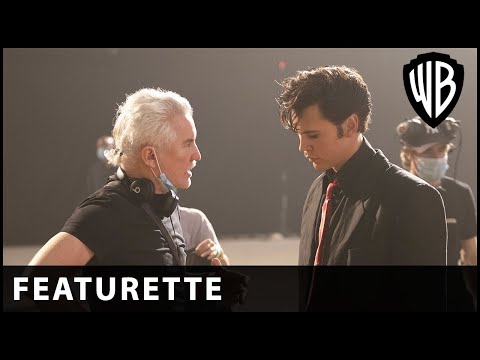 Комментарии пользователей:
Maria Veron
2022-07-31 01:33:08
ME CONMOCIONO ESTA PELICULA ,YO CONOCIA SU HISTORIA COMPLETA.I·M HIS FAN SINCE I WAS13 .OH MY BELOVED ELVIS!!!!
Queen Cersei Lannister
2022-07-06 14:57:24
Austin MUST win an Oscar for his portrayal of Elvis. This film was simply extraordinary!!!
Lauren
2022-07-02 12:49:10
This film was phenomenal I hope it goes on Netflix and I really hope that we see Austin in more big roles like this
Phoenix Eagle
2022-07-02 09:34:05
Wrong on that's alright mama being an RCA recording. It was recorded at Sun Records. And didn't have drums.
Андрей Николаевич
2022-06-30 23:24:37
Ее
Aparecida Campos
2022-06-30 22:11:54
Very Goody Austin.thankil
Jill Cinquegrani
2022-06-30 17:35:17
I have just seen Austin as ' ELVIS . Tom Hanks voice over i found to be a bit much in the begining. But one thing i did not expect , was the emotional pull i felt in one particular part....being it has been so many years since The KING,S passing. Parts of it are very sad, considering how it all ended for Elvis....., and thanks to Austin,s great performance, i could not hold back the tears!!!!!!!! So wonderful job, Austin........ u made me cry!!!!
Nebraska14
2022-06-27 17:43:18
I just saw this movie on Friday!! It was amazing, I 10/10 highly recommended to go see it. Wonderful job Austin butler and the director and other cast members!! Great job
Sutina Knight
2022-06-26 21:37:02
I felt like elvis is a live
Fletcher Hamilton
2022-06-24 15:21:00
Butler would make a very good Joker . . .
Wendy Otter
2022-06-24 12:12:08
GOLD STAR MOVIE!! This is best movie I ever see in a very very long time!! WOW!! This movie will answer ever question you have about Elvis!!! It will knock your socks off!! It even had me crying. BLEW MY MIND!
Moutton Noir
2022-06-24 08:21:30
I hadn't paid much attention to this movie until today 24/6/22. Watching this short clip has blown my mind! This kid IS ELVIS! Physically he bears no resemblance but his performance WOW! HE BECOMES ELVIS- Even his face appears to change. Everything looks so much like the original performances we've watched down through the decades. The body movements, gestures and posture- IMPRESSIVE! I'm now eagerly awaiting the film's release!
I can't wait onggg
Antony W Shaw
2022-06-23 17:45:06
I'm in the UK, it's out tomorrow 24th. I've booked the day off work because I won't function.
katelyn brittingham
2022-06-23 17:34:34
soon gonna be seeing it really excited the theater is already almost sold out according to their website
Yo creo que es la mejor película que an echo,desde que murió.
Anthony Hobbs
2022-06-23 16:38:59
I can't wait to see it tonight
sc su
2022-06-23 16:28:49
I agree with Austin, Elvis had nervous energy, but he also punctuated the music with his body movemnts. It is an urban legend that elvis "learned" or "copied" anyone in the community. He once said, I just do what I feel & the people seem to like it. I've never seen another singer move like elvis, especially later elvis of the 70's, doing karate with music. His movements were like his voice, they were both instinctive, not taught.
Dann Sanchez
2022-06-23 16:25:09
lmXLrkpTeBE&t=0m38s 0:38 the way he dances while recording, at this moment he was already into character 👏