How To Choose An Indoor Trainer | Which Wahoo Trainer Is Right For You?
84905
63
863
30.01.2018
133633031
762000
1888
05.11.2014
GB
Indoor trainers are a really efficient use of time and great for getting quality bike sessions in. But with so many on the market these days, finding the right one for you can be a bit of a minefield. So I'm going to help you to choose an indoor trainer. Subscribe to GTN: 🤍gtn.io/SubscribetoGTN Check out the GTN Shop: 🤍gtn.io/6B In association with Wahoo. Magnetic, direct-drive, fluid, air, smart trainers; where on earth do you start? Well there are so many more options available for indoor trainers compared to when I first started cycling, and to demonstrate this Wahoo have kindly stepped in. They've loaned us a few of their products that we can run through in the same range that is used by Ironman world champion and Olympic Games gold medalist Jan Frodeno, and even Team SKY. This is the KICKR SNAP from Wahoo. It's Wahoo's more affordable trainer; it's another wheel-on design, meaning it's fixed and mounted in the same way as the previous trainers, but this is a smart trainer. This means that you can connect the trainer to your bike computer, your smartphone, your tablet, or even your computer via Bluetooth Smart or ANT+, so you can monitor your training as you go, and actually in some cases you can increase the intensity on these as well. I'm currently using the Wahoo ELEMNT BOLT bike computer but you can use other bike computers, and if you don't have a bike computer you can actually use the Wahoo Fitness app to capture the data. But the beauty of the smart trainer, and actually a really popular option, is to connect it to something like Zwift or Trainer Road to give you that kind of outdoor, real feel. The Wahoo KICKR: we're taking it up a level here now; this is Wahoo's ultimate indoor smart trainer. This is in fact a direct-drive trainer, and that means that we have to remove the rear wheel, and then we place the dropouts of the bike onto the axle of the trainer, which also has a pre-mounted cassette. Now that just saves us all that effort of having to use a turbo tyre, or even having to switch a wheel out with a turbo tyre on. It is a relatively heavy device: it comes in at around 21kgs. As with all smart trainers really, a really cool setting with this smart trainer is the ERG mode. So say you want to sit at a set power or you're trying to follow an intervals session, then you can just do that: set it, the turbo does the rest for you regardless of the terrain or your cadence. Something even cooler - the Wahoo KICKR CLIMB. Now we've been talking about indoor riding feeling realistic, but how about your bike actually moving with the simulated terrain? The forks lock into the KICKR CLIMB, so the bike will literally tilt upwards or downwards with ascents or descents. In fact, you can range from ascents of 20% all the way back down to descents of 10%. If you'd like to contribute captions and video info in your language, here's the link 👍 🤍gtn.io/6C Music: Epidemic Sound Bronx Back In 95 2 - Jan Chmelar Knockout 3 - Da Tooby Last Chance Man - Måns Billner Urban Poetry 2 - Jan Chmelar Watch more on GTN... 📹 How To Increase Your Power On The Bike - 🤍gtn.io/increasepower 📹 Indoor Cycling Interval Workout On The Ironman World Championships Course - 🤍gtn.io/IndoorIntervalWorkout The Global Triathlon Network (GTN) is the best triathlon YouTube channel, with videos for anyone who loves triathlon: from seasoned Ironman racers to first timers – and everyone in between. With the help of our pro and Olympic medal winning team, we're here to inform, entertain and inspire you to become a better triathlete; including videos on: How to swim, bike, and run faster with expert knowledge Beat your PB with record-breaking expertise Get the best from your bike and gear with pro know-how In-depth, entertaining features from the heart of the sport Chat, opinion and interact with us across the channel and on social media every week Join us on YouTube's best triathlon channel to get closer to the sport and to become a better, faster and fitter triathlete. Welcome to the Global Triathlon Network. Thanks to our sponsors: Cervelo bikes: 🤍gtn.io/cervelo BMC Switzerland: 🤍gtn.io/bmc-bikes ON Running: 🤍gtn.io/On-Running Assos of Switzerland clothing: 🤍gtn.io/Assos KASK helmets: 🤍gtn.io/kask Park Tool: 🤍gtn.io/parktool Profile Design: 🤍gtn.io/profiledesign Zipp wheels: 🤍gtn.io/zipp ENVE wheels: 🤍gtn.io/ENVE-wheels Quarq powermeters: 🤍gtn.io/quarq Polar: 🤍gtn.io/polar Vision wheels: 🤍gtn.io/vision Continental: 🤍gtn.io/continental Team Bath: 🤍gtn.io/TeamBath YouTube Channel - 🤍gtn.io/YouTube Facebook - 🤍gtn.io/Facebook Instagram - 🤍gtn.io/Instagram Twitter - 🤍gtn.io/Twitter Google+ - 🤍gtn.io/GooglePlus Strava Club - 🤍gtn.io/stravaclub GMBN Tech - 🤍gmbn.tech/subscribe GCN Tech - 🤍gcntech.co/subscribe EMBN - 🤍embn.me/subscribe
Кадры из видео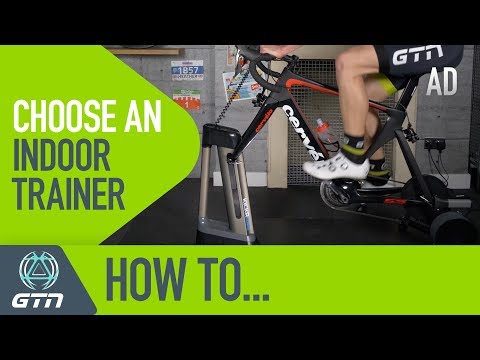 Комментарии пользователей:
Nilavra Pathak
2020-05-20 18:15:54
What's the one for apartments ? I need a noise free one
rag_ster
2020-05-17 17:21:08
why watch this video when you cant even afford one
Fabiola Nuñez
2020-01-28 22:00:12
Hi there! I just got my Kickr Snap, but when I tried using it with my bike (a Cube Axial WS with disc brakes) I could never fit in the quick release skewer, it seems to be too short. Do you know what can I do? Is there any different skewer I can use?
Thanks for your help!
Jimboy Donayre
2020-01-03 04:59:51
i love you GTN
Van Iyke
2019-10-30 20:16:47
I have a magnetic spin bike. My problem arises after pairing my Wahoo with Zwift.

Not sure if you use Zwift, but let me ask anyways: During the Zwift setup, when you get to the page where they ask to "select your trainer," there is no option for the metal plated flywheel bikes like mine. What does one do/select then?
How do you go from 40 pound over straight to 50 pound one?
Champ Tech
2018-09-10 03:14:43
what happened to the roller trainers? too hard to ride?? get the roller trainer and learn how to ride in a straight line all the time.
Sota Maehara RUNNING
2018-02-06 12:19:00
Re-riding the course you actually did is pretty darn cool I have to say
Shanna Cleveland
2018-02-03 15:06:02
Thanks for this awesome video. I have the wahoo kicker snap, and I have a question. When I'm doing intervals, sometimes when I shift back down for the recovery portion I lose any tension and any power readings for about 30-50 seconds until it kicks back in. That's okay if I've got a recovery period of more than 30 seconds, but with a lot of the interval workouts, it's more likely that I get a 15 or 20 second recovery, so often I just end up staying in the higher gear for that period and pedaling a little slower. Does that mean that I've set up my trainer incorrectly, or is that just par for the course. Thank you.
bikeanddogtrips
2018-02-01 21:35:33
it would be really great if you could get your sponsors such as wahoo and ON to provide you with promo codes in order to get a product discount. eg i just ended up forking out another 135 quid for a pair of cloudflyers because i have 8 marathons over the next 3 weeks. A code like GTNON to give me 20% off would have helped both me and the company as it would get more people trying their products, leading to a greater fanbase and ultimately greater profits. Many youtube channels do this.

so, could you have a word please because we all want good gear, but very few of us can afford it or have sponsors to pay for us.

thanks
Kevin Morley
2018-01-31 22:51:41
Can't beat Elite, got a cheap fluid turbo & fitted BT sensor. Gives power cadence & speed readings, been good for rehab after TKR op
Mario Andrés Arenas
2018-01-31 16:30:44
What about rollers??
Nina Grundlingh
2018-01-31 09:54:42
Also wondering about rollers?
Owen184
2018-01-31 07:51:20
Got a new house with a gym, looking for a good one!
becmango
2018-01-31 02:26:14
Why does it cost so much just to ride your bike indoors :(?
Dave Pratt
2018-01-31 02:05:11
When is the Climb going to be available?
Simon Morse
2018-01-31 02:02:00
Which is the quietest trainer
Ross H
2018-01-30 23:55:58
Picked up a wahoo kicker last night. Slaying it baby!
Gruff Rees 9
2018-01-30 22:59:36
What about rollers ?