How to Cook a Roast Pork with Crackling EASY! #shorts
6118
16
194
05.08.2022
5755673
70100
226
15.05.2019
AU
This is a new pork crackling preparation method for me, I've heard of the boiling water/hair dryer method and decided to try it myself. The theory behind using boiling water is it opens up the pork skin once you've scored it, so you can really get rid of that moisture under the skin when you dry it. After that it's a pretty standard process on how you cook your roast pork or any cut with skin on. We went with a light coat of olive oil and a sprinkle of flaky salt on the skin. We also seasoned the meat in our honey soy slammer. Make sure you don't season the skin, only the oil & salt on the skin. We went into the Weber Kettle using 2 charcoal baskets full of red hot briquettes. This was about a 2 hour cook until the crackling had set and the meat was 145F in the thickest part. This method will work great in your oven, air fryer or another BBQ where you can get good, high indirect heat around the 500f/260c mark. Always remember if parts of your crackling have set and are starting to burn, you can loosely cover those parts in foil. #shorts #tips #howto #cooking #roast #pork #crispypork
Кадры из видео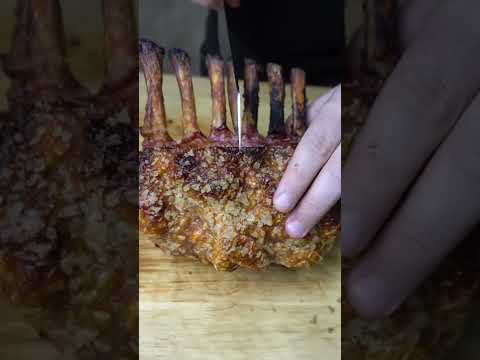 Комментарии пользователей:
Patrick Brown
2022-08-07 07:50:44
I need to try and find a skin on roast, hard to come by here in US where I'm at.
Do you use a pellet smoker ?
Jim Alafogianis
2022-08-05 09:22:53
Can't beat a pork crackle . Epic cook as always
I ate breakfast not that long ago why you gotta make me hungry again??😂
1nudz1
2022-08-05 08:48:31
At the start I was like…that looks nice…. Nek minute… awwww dammm my mouth was like boom.. watering. Churr bro I no what I'll be having the weekend 👏🏻👍
branaden
2022-08-05 08:47:38
What's the boiling water supposed to do?
Jay K
2022-08-05 08:39:22
Looks mint!!