Zwift Haute Route 2020 Top Tips & Survival Guide
1073
6
30
02.04.2020
541049
2980
82
27.02.2019
AU
Zwift will be starting their three day stage event, the gruelling Haute Route on Watopia. The event starts and finishes 3-5th April 2020, with a big stage each day: - Day 1 - The Three Sisters - 🤍zwiftinsider.com/three-sisters/ - Day 2 - Tour of Fire and Ice - 🤍zwiftinsider.com/tour-of-fire-and-ice/ - Day 3 - The Pretzel - 🤍zwiftinsider.com/the-pretzel/ Check out this video for my survival tips for this epic Zwift event. I will be riding each day at 20:00 (UTC+10) or AEDST down here in Melbourne. Dont forget to share the video on your social media channels, lets make this the BIGGEST Zwift event yet!
Кадры из видео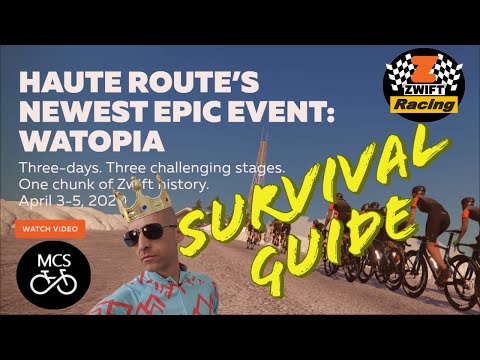 Комментарии пользователей:
Baris Tansel
2020-04-03 08:23:17
Nice and fresh shiny hair 👍
Melbourne Cycling Segments
2020-04-03 07:23:26
Currently the 8pm (AEDST) stage 1 event has almost 5000 riders registered. This is going to be...
EPIC!! Get on board and I hope to see you out there. 🍻
Ian Lindsay
2020-04-02 18:02:45
Good tips sir,I will let you know how I get on.Ride on!